This afternoon we made a quick run into the local grocery store for a couple of items or twelve.
You know how that goes.
Went in for zucchini, avocados, tortilla chips, and tomatoes...came out with $101 worth of necessities including that fabulous looking organic cherry crumble...
but I digress.
As we were leaving we spotted my friend, Dora, whom Mari has only met once and that was not long after coming home...when her English wasn't quite "there" yet...and before she had become obsessed with (you guessed it)...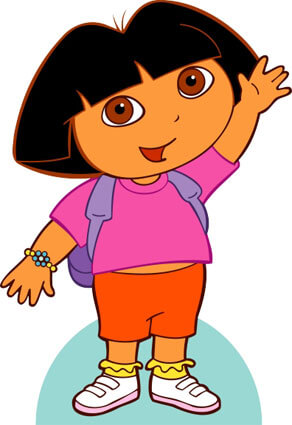 I said, "Do you remember Miss Dora?" and the child looked at me like I was crazy.
Like, "Woman, there is NO WAY that is Dora 'cause I KNOW Dora and that is DEFINITELY not her."
I pressed..."This is Mommy's friend, Miss Dora. Yes, like Dora that you see on TV...that is really her name! Isn't that neat?"
Mari smiles at her and, in all seriousness asks,
I kid you not.
Dora was quick, though.
"He's in the car!"
Gotta love it.